I meant to do this post over the weekend, but I ran out of time because I volunteered to edit a school-related paper by my youth pastor's wife.
ANYWAY
. The important matter at hand is that my cat, Lottie (my nickname for him--his full name is Lancelot), had surgery on ... Friday. I think it was Friday.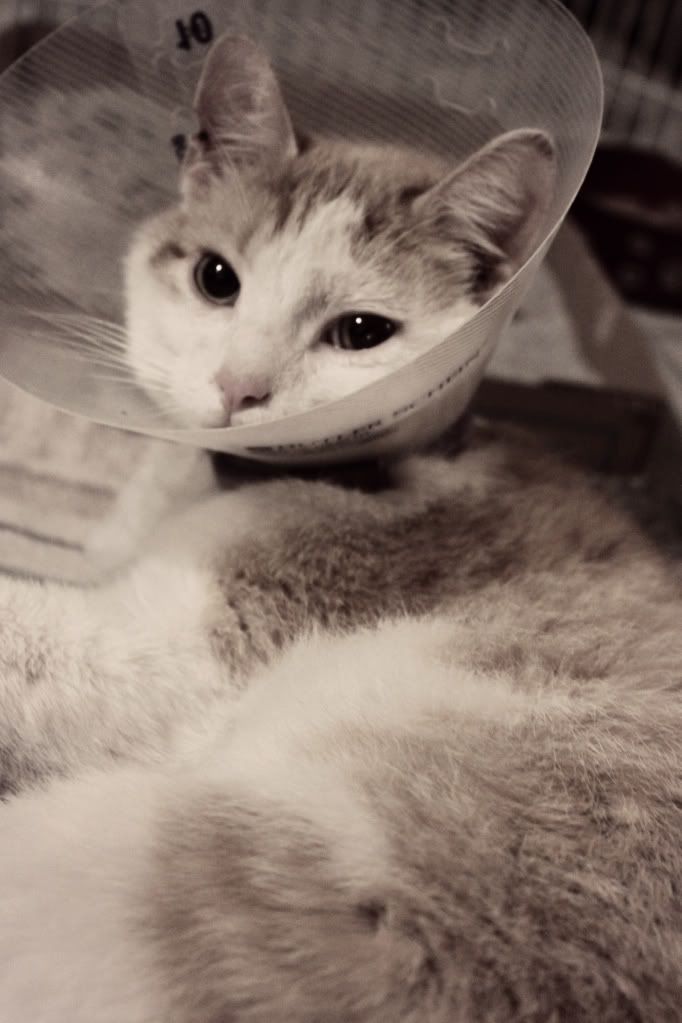 The Story:
My parents and sister went camping for a few days last week. I could not go because I'm taking summer classes, so I stayed home and guarded the house. Now Lottie usually stays away during most of the day because our other cat, Kevin, is very territorial and usually comes around during daylight. Lottie will come to the front porch around 11:00 PM or so to get his food...usually right about the time I get off work.
Well, a few days passed and Lottie never showed up. There's not much to do about this, because both of our cats are really strays that we've taken in. ("taken in" = give food and love to, because my dad is allergic to cats. So they stay outside.) He finally showed up on Wednesday and my friend noticed that he had a limp. He seemed pretty out of sorts and in pain, so I let him sleep on the couch that night (Shh! Don't let my Dad know!). When my parents came home the next day, I told him what was up and Mum took him to the vet.
Turns out his hip had popped out of place. They could have popped it back in, but because it had been that way for a few days, the healing process had already begun, so it had been healing in the wrong position. So...he had to have surgery. $350, which I was concerned about at first because I'm running pretty low on funds, but my grandma, God bless her, gave us enough money to cover it.
He came home Saturday and was pretty groggy. For the first few days, you could tell he was in a lot of pain and that his leg was sore (though he is on pain medication). He can barely walk and has to stay on "bed rest" for two weeks. The cone around his head is so that he won't lick the wound. His stitches will be taken out in two weeks.
We set up a little pen for him in our basement because he's not supposed to have much activity for awhile. He's pretty bored, but in all reality it's probably better than being out in this extreme heat. (Actually, we've gotten a little bit of rain the past two days, praise Jesus!) He's SO incredibly sweet, though. The cone needed taken off so that he could eat, and he was unbelievably patient with me as I tried to get it back on him. He loves all the attention and I could spend hours sitting next to him, talking to him and making sure he's okay. He's such an awesome cat.
I went to see him when I got home today, and he's doing much better. He actually managed to get out of the pen and got a little trapped in a corner, so I had to get him out and put him in his place. He could stand and walk around alright with not much pain though, and the swelling on his back has gone down considerably. I'm confident that he'll be just fine. =)
Oh! Also--my Dad's first home-grown tomato of the year: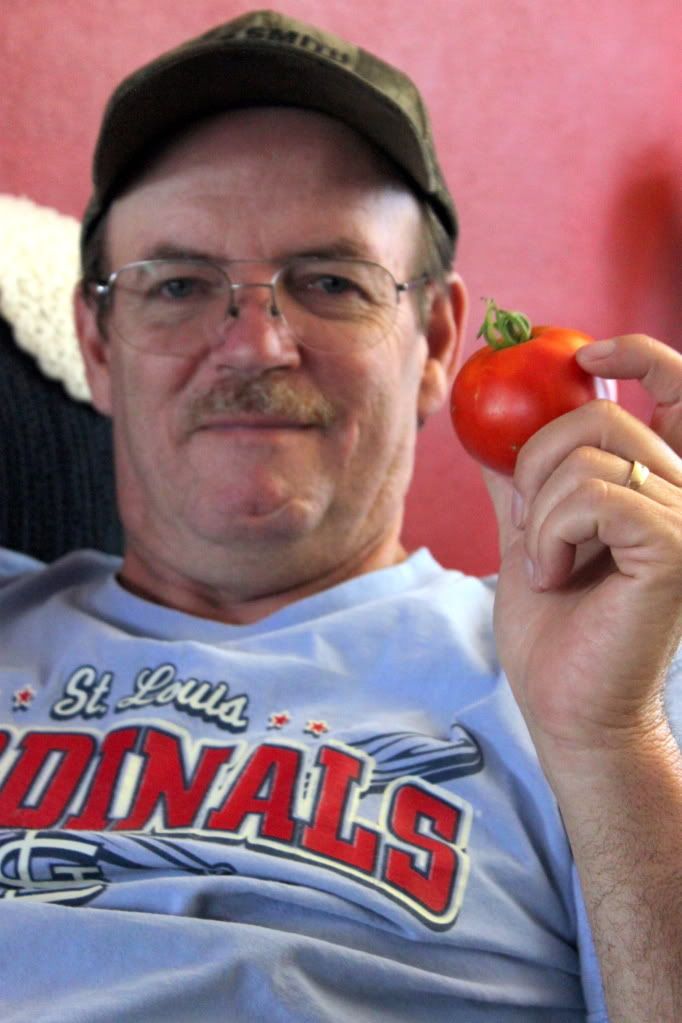 Hehe.
--Emily