I read this book (novella) earlier this year after hearing my American Lit teacher talk about how good it is. This semester, I have the same teacher for American Short Fiction and it is a required reading.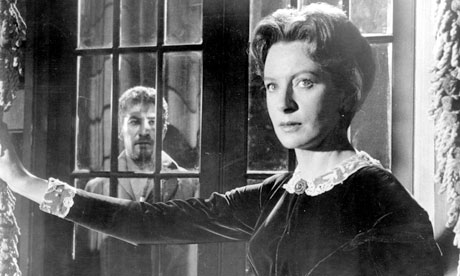 Some good things about it:
--it's short. Only 117 pages on my Kindle edition
--it's free on Kindle
--it's a ghost story
--it's kind of a psychological thriller
--it has creepishly innocent children
--it makes you think.
Some bad things:
--it's Henry James
--which means it's incredibly wordy
--the narrator is obnoxious
--absolutely nothing is explained
It kind of ends up being like
Inception
, but in a bad way. You know, like when the credits roll and you're consumed in, "Was that a dream? Was it reality? Was it both?" Until you get to the point where you throw your hands up and say that there isn't enough evidence to make a solid stand. Basically, it's neither. Basically, it's ambiguous simply for the sake of being ambiguous. There is no right answer.
Does that mean that it is poorly written? Not necessarily. While as a reader it frustrates me, it's also what makes it able to be discussed and debated and evaluated. James didn't spoon-feed his audience with this one; he wants you to decide for yourself.
So anyway, what's the story about?
Well, it starts at this holiday party where people are telling ghost stories. The narrator is unnamed, but there is another man there named Douglas, who tells the tale that is
The Turn of the Screw
. Except it's not his story, and it's not fiction--he's reading it off a manuscript that was written and given to him by the Governess herself.
Enter Governess! She becomes our narrator for the rest of the book. She has just gotten the job to be the governess of two children, Miles and Flora, at a country home called Bly. They are under the guardianship of their uncle due to the passing of their parents, but he is incapable of taking care of them due to business and such. We don't see the uncle in the story, but we're told that the narrator has a crush or something on him, and that his one command is that whatever happens at Bly, she is to take care of it and not to write to him at all.
Then some other things happen. She receives a letter that Miles has been expelled from school, but the letter does not say why. After meeting the children, however, she's completely overcome by how innocent they are and denies the fact that such a well-mannered boy could do anything to get him kicked out of school.
One day, she sees a man on the tower. Creepy. Later on, she sees the same man looking in through one of the windows, but when she goes out to meet him, he's gone. And upon describing the man to Mrs. Grose, another worker at Bly, Grose tells her that the man (named Quint) used to work there, but is now dead.
Oooooh.
And one day while by the lake with Flora, she sees another figure, but it's not Quint this time--it's Miss Jessel, the Governess that worked there before her. Except she is dead, too.
She sees them some other times and becomes convinced that the ghosts are after the children. But she also thinks that the children are involved with the ghosts, talking to them and such, and put on the air of innocence to cover their scheming. But she also says to herself that they're much to innocent to be involved with such things.
She goes back and forth a lot, making her seem a bit obnoxious. And paranoid.
And probably unreliable. But who really knows?
And what does it
really
mean to be innocent, anyway?
Questions. With no answers from Henry James.
~~~~~~~~~~~~
So, I'd give it about 2.5 out of 5 stars. That's what I gave it my first reading, and though I was hoping I'd like it better the second time around, I really didn't. For a ghost story, it's alright, but it was probably much better when it was first published in 1898.
--Emily
currently listening to: The Tip of the Iceberg by Owl City